Storstad updates to OPEN One
The popular restaurant and bar Storstad in Stockholm opened in the 90s and has since then evolved into a modern location that attracts both neighborhood locals and tourists. The restaurant has influences from a french bistro, but is just as popular for bar hangouts and afterwork.
With a new ownership and an updated and larger dining area twice the size of the original one, higher demands were placed on the payment system. The former system was considered outdated and lacked the technology and features to accommodate the increased flow of guests. In this way, it slowed down the staff and made it harder for them to give good service to the guests.
A system at the forefront
After researching the market and finding a supplier that they felt was at the forefront and confirming this through references, the lot fell on OPEN.
"OPEN's system is up to date with features needed in the restaurant industry today. Especially OPEN GO where we can both take orders and send vouchers into the kitchen and bar through the same unit. This reduces a lot of running back and forth for our staff
– Storstad
More efficient and better service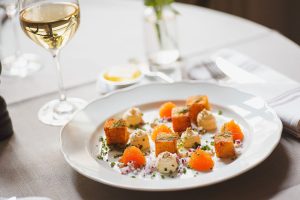 Storstad sought simplicity and ease of use in a new payment solution without reducing functionality. With features tailored to their business, it streamline and reduce stress for the staff and made it easier to manage several guests at one time. OPEN Go is a mobile cashier system that allows waiters to avoid running between kitchen, bar and tables. Everything can be done directly in one unit, it minimizes running and congestion. When things take a long time it builds queues and to avoid them you need a fast and reliable system. Which has never been more important than today with the current situation and restrictions.
"With our new payment system we find that it is smoother for the staff, gives us less headaches and is significantly more reliable. Simply more efficient and more customized for our purpose.
– Storstad
OPEN One makes it easier for Storstad to get statistics, thanks to the integrations they now have full control over salary costs, scheduling and follow-up of sales. All figures and accounts are handled smoothly and allow the staff to devote their resources to creating a good restaurant experience for their guests. It will be fun to follow the collaboration with Storstad and see how they develop as a restaurant.